Welcome to Laughter Yoga/Laughter Lift with Alexa!
Ready to laugh more? 
Find out about MINDFUL and UNCONDITIONAL LAUGHTER
You've come to the right place!
Want to know more about Alexa's latest Laughter Yoga activities?
Here is a recent highlight as seen on CBS News3 Philly:
https://philadelphia.cbslocal.com/video/3883077-laughter-yoga-unique-exercise-class-offered-in-media/
---
Laughter in Sports Competitions
Even sports tennis star Naomi Osaka is realizing how powerful laughter can be to reduce stress and work through challenges.
Wall Street Journal 1/20/2019
---
Become a Laughter Yoga Pro!
FEBRUARY 23 & 24, 2019
CLYL Training February 23 &24, 2019 Registration, Media, PA
---
I  was delighted to be one of the presenters at the Laughter Yoga USA 2018 Annual Conference in Orlando, FL in October!
As a Laughter Yoga USA Committee Member and Volunteer I am happy to keep abreast of the latest updates in the Laughter Yoga community.
---
Some highlights from May 6th…….       WORLD LAUGHTER DAY PHILADELPHIA
https://kywnews.radio.com/articles/no-joke-yoga-class-aims-change-world-through-laughter
SAVE THE DATE: 
PHILADELPHIA AREA WORLD LAUGHTER DAY CELEBRATION IN MEDIA, PA 19063
SUNDAY, MAY 5, 2019
---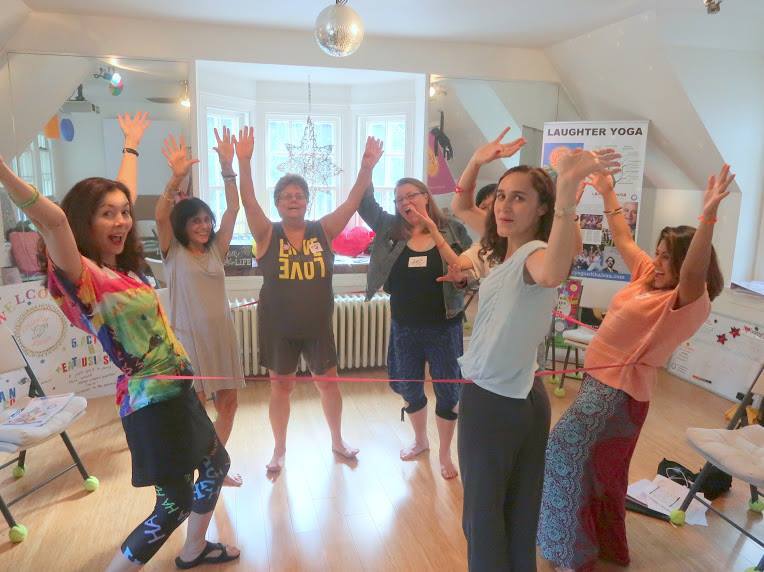 http://www.huffingtonpost.com/entry/happily-ever-laughter-from-ha-ha-to-aha_us_59c1b829e4b0c3e70e7428cf?ncid=engmodushpmg00000003
---
Laughter Yoga with Prisoners
Alexa is currently leading a 10 week series of Mindfulness and Breathing exercises in a SMART (Stress Management, Mindfulness Meditation And Resilience Training) from female inmates at a local prison. She is also enrolled in a 2-yr Mndfulnes Certification program, led by Fleet Maull, who is the founder of the  Path of Freedom (POF) course through Prison Mindfulness.org, https://www.prisonmindfulness.org/projects/path-of-freedom/
Last year, Alexa had the opportunity to share some Laughter Yoga resilience with male inmates at a prison outside of Chicago.
10-20-17 DH Cops and Crime Column
(Click on the article to read)


                                                     Mark C. Curran Jr., Sheriff
 
MEDIA RELEASE
 
 

Lake County Sheriff's Office • 25 South Martin Luther King, Jr., Avenue• Waukegan, Illinois 60085

For Immediate Release

Laughter Yoga USA Visit the Lake County Jail

On October 9, 2017, Lake County Sheriff Mark Curran invited Laughter Yoga USA into the Lake County Jail for a one-hour 'Laughter Yoga' session with jail inmates.  'Laughter Yoga' is described as helping in decreasing depression and anxiety, lowering blood pressure, releasing endorphins (it's a cardio workout), connecting people, offering compassion, hope, positive attitude, and gratitude.

During the session, inmates were taught the benefits of laughter, meditation, and breathing exercises to reduce stress and remain healthy.  The participating inmates learned Yoga exercises and participated in a 'seated meditation.'

Sheriff Mark Curran said, "Programming is a pillar of our operations inside the Lake County Jail.  Through our programming, educational, spiritual, and reentry programs, we strive to provide inmates with the tools they need to reenter the community, and stay out of jail.  This session of Laughter Yoga received high praise from the participating inmates, there were plenty of laughs, and many inspired inmates!"
---
Off the Charts Podcast Interview
---
Create a new and beneficial habit for yourself 
Scientists say that if you get into the routine for 4o days, you can create a new neural pathway.
Take the 40-day Laughter Challenge!                       
---

Laughing
My hard eyes broke and grew a rose
Whose one huge eye saw only you
Flowering in cosmos after cosmos
Laughing as we grew.
– Jalal-ud-Din Rumi
---


---
  Ernie Oktay of www.laughteryogafriends.com joins Alexa at Laughter Club
---
It's time to de-stress and get energized!
Sign up to receive Alexa's Laughter Blast Newsletter with laughter tips/inspiration    
and notifications of upcoming laughter events.
.
.